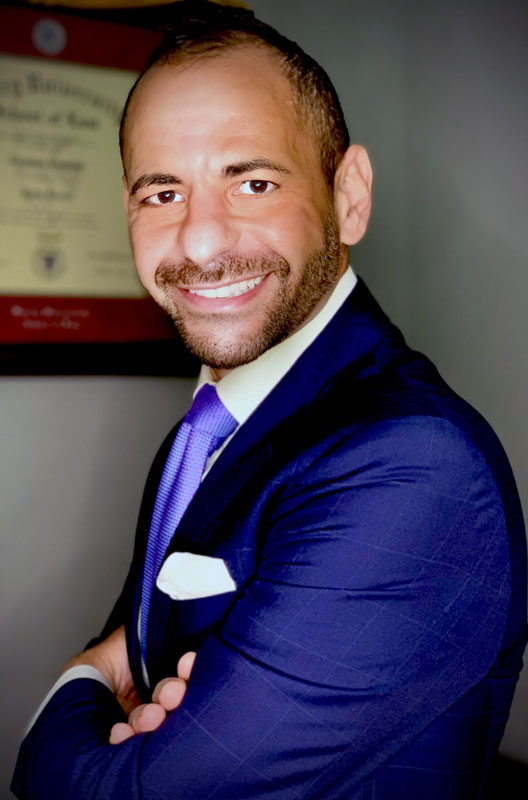 Practice Areas
Criminal Defense
Family Law
Education
Kean University, B.A.
Political Science and Government
Cum Laude
Barry University School of Law, J.D.
Magna Cum Laude
Class Rank: #10 of 136
Senior Editor, Barry Law Review
Honors Certificate in Environmental and Earth Law
Book Awards: Constitutional Law; Contract Law; Energy Law and Policy; Legal Research & Writing
Attorney Abraham Elmazahi is a former Assistant State Attorney who was honored to serve the citizens of Orange County, FL. As a prosecutor, Mr. Elmazahi handled cases in the area of DUI, criminal traffic, domestic violence, misdemeanor battery, and third-degree felony drug charges and litigated several jury trials to verdict. His goal is to take that experience and use it to help protect your rights.
During law school, Mr. Elmazahi's passion for the law was clearly apparent through the several accolades that he earned. He graduated magna cum laude from Barry University School of Law where he was ranked #10 of 136 graduating students. He also earned the highly coveted book award (for the highest grade in class) in several areas of law: Constitutional Law, Contract Law, Energy Law and Policy, and Legal Research & Writing. Mr. Elmazahi also had the honor of being invited to serve as a Research Assistant to two different Law Professors with one role focusing on the area of Constitutional Law.
In 2016, Mr. Elmazahi served as a legal intern for U.S. Attorney's Office for the Middle District of Florida where he helped on criminal cases on the federal level.
Prior to becoming an attorney, Mr. Elmazahi resided in Washington, D.C. where he served in the United States Senate for nearly a decade as a legislative aide to Senator Robert G. Torricelli (D-NJ) and then to Senator Joseph I. Lieberman (ID-CT). Mr. Elmazahi handled national defense, judiciary, and some appropriations work for the Senators.
After leaving Capitol Hill, Mr. Elmazahi took on the post of Legislative Director for Boys & Girls Clubs of America. In that role, he worked closely with Congress, the Executive Office of the President and the U.S. Department of Justice during the Obama Administration. He helped secure federal funding and programs to serve nearly four million at-risk youth in our nation's most underserved communities.
Mr. Elmazahi is a native of New Jersey and currently resides in Orlando, FL.